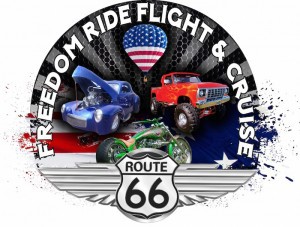 Join us in 2018: July 27th – 29th
The annual Gurley Motor Route 66 Car, Truck & Street Rod Show, will be held in Gallup in July in conjunction with the Route 66 Freedom Ride, Flight and Cruise event. The event will include a motorcycle cruise of Freedom Riders from Tucumcari to the state line and back to Gallup. Mass ascensions of hot air balloons will occur each morning at sunrise.
Saturday – GallupFEST –  "Wise Fools" circus performers (Santa Fe) food, vendors, a beer garden, and live music will round-out the day's entertainment along with outstanding shopping opportunities in historic downtown Gallup.
View Weekend Calendar    View Lodging Info
Hot Air Balloon Mass Ascensions
Taking place every morning at sunrise throughout the weekend, enjoy the spectacular sight of a mass hot air balloon ascension. Watch as adventure-seeking balloonists soar above the magnificent canyons where movie producers still film Western epics. For more information, please visit the ballon website at www.redrockballoonrally.com.
Gurley Motor Route 66 Car, Truck & Street Rod Show
Join fellow vintage, classic, muscle, and street rod automotive fanatics for multiple cruises and a spectacular car show. Accompanied by vendors, live bands, a beer garden, great food, and plenty of shopping, this is the car event of Northwest New Mexico that you won't want to miss. All proceeds from our show will be donated to Veterans helping Veterans and the Wounded Warrior Foundation. For more information, please visit the Gurley Motor Company Car Show website at www.gurleymotorcoroute66carshow.com.

Route 66 Freedom Ride
Spanning more than 400 miles from Glenrio, New Mexico to the Arizona State Line, hundreds of motorcyclists ride in support of members of the Armed Forces and their families. Funds raised from the ride benefit Operation Wounded Warrior and Veterans Helping Veterans. On Saturday evening balloon pilots assemble their baskets and burners in Downtown Gallup, creating a tunnel of fire for the motorcycles as they arrive at the Courthouse Square. For more information visit the Route 66 Freedom Ride website at www.rt66freedomweekend.com.
Special Thanks to These Event Sponsors: